JFCN Provides Succour For Less Privileged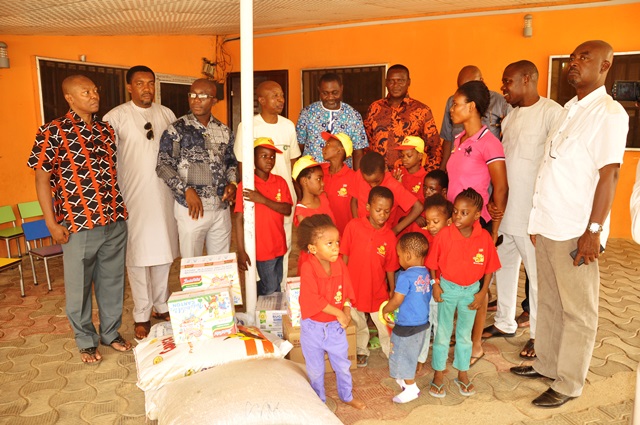 In Abuja, various clubs, associations and nongovernmental organisations have taken up the challenge of putting smiles on the faces of the less privileged members of the society.
These gatherings of like minds are evolving as the surest platforms for addressing basic social challenges facing the less privileged members in the society.
Inside Abuja witnessed a recent outing by the 'Just Friends Club of Nigeria', a social club of friends of like minds whose core area of intervention includes reaching out to the traumatised members of the society through the undertaking of philanthropic activities.
As part of its philanthropic activities, the club has visited the Children's Home, Karu, Abuja where it made donations of various items to the orphanage during the last festive period.
The same gesture was undertaken in December 2015 when JFCN visited the Mother Teresa Children's Home, Gwarinpa, Abuja. In the wake of the insurgency in the North-East which created Internally Displaced Persons (IDPs), Just Friends Club of Nigeria visited the National Emergency Management Agency (NEMA)-organised IDP camp in Area 1, Abuja on March 21, 2015 and presented relief items to them. Vice President of Just Friends Club of Nigeria, Fred Ohwahwa, who spoke to Inside Abuja during their last outing, underscored the basic objectives of the club.
"The objective is simple: To bring people from different backgrounds together in order to add value to the society. We inspire ourselves to look after the interest of the less privileged members of the society, contribute ideas capable of moving society towards a better direction.
"In this direction, the club organised lecture series in the past that focused on critical sector of the economy like privatisation. Last year, the former Director-General of Bureau of Public Enterprises (BPE), Mr Benjamin Dikki, delivered a lecture on" the Federal Government's Privatisation and Economic Reform Programme," Vice president of JFCN said. Ohwahwa disclosed that beginning from this year, the club's scholarship programme for the brightest but less privileged students will commence as a way of adding value to the society.
"The needs of an average human being are not much, but greed is always the problem of our society. The government should strengthen the various institutions set up for interventions. Associations, clubs undertaking genuine philanthropic activities should be recognised and encouraged to do more," he said.

Source: https://newtelegraphonline.com/